Pediatric Chiropractic in Aurora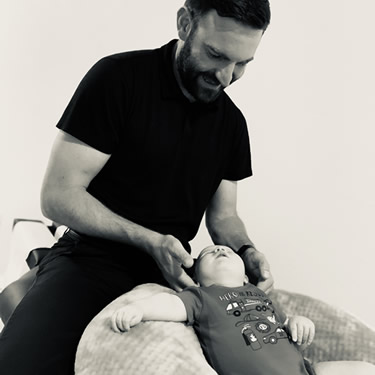 Elevated Health Chiropractic is a place where your entire family can get the natural health care they need to stay well. Dr. Aaron particularly enjoys seeing babies and children, introducing them to chiropractic early in life. If you're searching for a pediatric chiropractor in Aurora, Dr. Aaron has the experience and training to help the youngest members of your family.
When we check your child's spine, we look at the alignment. When their spine is aligned properly, their nervous system has the best possible chance at functioning at 100%. Your nervous system is responsible for everything that happens in your body, which includes growth and development. We love seeing children thrive with chiropractic care!
The Traumatic Birthing Process
Even the most natural births involve a trauma for a child. The birth canal is small, and several pounds of pressure are placed on the baby's neck for them to get out. If there is any intervention needed, the baby's neck can be tugged on, which worsens the problem. Since issues can happen from day one of life, it's vital that you bring in your kids as early as possible.
We can identify and correct any misalignments in the spine before they become a more serious concern. It's our goal to see kids in our community grow up healthy and happy!
Experienced in Pediatric Care
Dr. Aaron has worked in a high-volume clinic where many of his patients were families that included babies and children. He has the skills, experience and equipment to evaluate your child and perform a gentle adjustment. There is no thrust involved, and you won't hear any popping sounds.
The First Visit
When you and your child come in for your initial appointment, we'll talk about your pregnancy and the birthing process. We'll look at your child's spine and use a light touch to detect spinal misalignments. If you're comfortable getting started, your child will get adjusted on that day. Rest assured that over his years in practice, Dr. Aaron has developed some tricks and tools that will put your children at ease and make their appointments fun for them.
A Newborn Success Story
One of Dr. Aaron's patients had just given birth. Concerned, they brought in their baby at 12 days old because the baby hadn't had a bowel movement. Dr. Aaron worked on the baby's back and pelvis. As soon as the parents arrived home with their baby, she'd filled her entire diaper.
Would you like to find out more about pediatric chiropractic Aurora? Contact our office today! We have convenient late opening hours available.
CONTACT US »
---
Pediatric Chiropractor Aurora | (720) 557-7464